There is no single way to generate leads, so having a holistic marketing approach is important. Be where your prospects are, and target them with these proven methods.
Software companies are always looking for new ways to generate leads. It's as if you can never have enough, am I right? And because lead generation for software companies is not an exact science, it can be difficult to provide your internal sales team with a steady stream continually over time. This is especially true in the B2B space where sales cycles can be extremely long.
In addition to that, there are leads, and then there are leads. Not all leads are of equal maturity or quality, and getting your definition straight is key when aligning marketing with sales. Sometimes sales execs are unwilling to follow-up leads if certain criteria are missing, and they're not always keen to spend a lot of time nurturing prospects (as that can be a lengthy process) before converting a lead into a sale. It's important to remember that the goal of any sales exec is to sell — they are not there to spend a lot of time doing the leg work to qualify information on random prospects. Making sure that your lead generation strategies are in-line with the expectations of your sales team is the first step to ensure success. Here are six other strategies that can help maximize your efforts to effectively carry-out lead generation for software companies:
Optimizing and leveraging content
Having great content that you can use to educate and nurture prospects is an essential part of any lead generation program. But knowing the keywords you want to rank for will help you create SEO-optimized landing pages to host your content so that it can serve several purposes at once:
Get your content in front of the people searching for it. When people are searching for certain keywords, the top results are the ones that get clicked on the most often. If you rank within the top 10 on the first page, this will help increase visibility for your content; as people find your content, this will help drive traffic to landing pages you have created solely for the purpose of generating inbound leads. Those landing pages should have a clear call-to-action and require prospects to leave important details about themselves (including their name, job title, email, and phone number) so that you can follow up with additional marketing efforts over time, and across channels. This will help increase the size and scope of your email marketing lists (more on that later) and enhance your business development data to include information on people who have already shown a bit of interest in your product. Of course, that doesn't mean every inbound lead you generate in this way is going to turn into a sales deal, but it's a good starting point.
Establish credibility for your brand. By creating value-added content around your area of expertise, you should be able to position yourself as a thought leader and establish trust for your brand amongst your target audience. Prospects purchase the brands they know and believe in, but having a recognizable brand doesn't happen overnight. Promoting your brand through content will help increase awareness about your products, services, and know-how, and will help differentiate your offer from that of your competition.
Use content for outbound support. Any outbound lead generation activity is going to require content that will help support the nurture effort. If you are cold calling, it is very rare that you are going to generate a lead off of one conversation with a prospect. Most want to see something in writing before they'll go further in the discussion; having great content ready that you can send to decision-makers will make the process smoother. Inviting people to register for webinars or to download a webinar-on-demand can also be a good way to initiate the conversation with a prospect without being too sales-y in the beginning. By leveraging a variety of content with the prospects you have started to engage with, you should be able to push leads down the sales funnel.
In order to optimize your content, the best is to start by conducting an audit on the keywords you want to rank for to see how you measure up to your competitors. Don't try to rank for very general or overly-broad search terms since it will be very difficult to do so. However, you do want to be sure that the keywords you choose are being searched — if they are too specific and no one is actually looking for those keywords, it won't do you any good either. Creating content around those keywords will help you increase visibility for your product or services, drive traffic to your website, and in time, organically generate inbound leads.
Don't forget to create a variety of different content types. Not all decision-makers are keen to read a lengthy or technical whitepaper but prefer videos, infographics, or short e-books instead. Remember that even in the B2B space, using effective storytelling to get your ideas across will help them stick. No one likes reading content that's dry and boring, so do what you can to make your content come alive.
Use social selling
When social selling is done right, it serves as a nurture engine that's permanently working in the background.
Of course, you are not going to generate high volumes of leads just by sending one InMail message on LinkedIn to a prospect, but this online platform can be used to establish credibility for yourself and help further your outreach program.
By being present in groups, interacting with people in your news feed, sharing content, and connecting with relevant prospects, you can create a dialogue with prospects and encourage them to learn about your brand.
Social listening (or the art of hearing what your prospects are saying online) is also an important way to gain market intelligence which should help you tailor your pitches. The more tailored the pitch, the more likely it is you will get a response, so it's worth spending time on this fundamental step as it can improve your lead transformation rates.
E-mail marketing
Creating email marketing campaigns to niche target audiences is a great way to stay in touch with leads. As with tailoring your pitches for social selling, the same holds true for emails: the more tailored the message, the more likely it is that you will get a (positive) response. As mentioned earlier, you can create specific landing pages that you then promote via email marketing with the goal of getting people to interact with your content; this education should give your prospects the information they need to better understand your value proposition and know the "what's in it for me" to convince them to go to the next stage in the sales cycle (having a meeting with a sales exec, confirming an online demo, etc). Leveraging your content through email marketing should "speak" to the prospect — make sure to pick the right content for the right audience each time. For example, if you have a success story that you created for a client in the banking sector, you could distribute that to prospects working for other banks. Or if you have an offer that is specific to a particular job function, make sure your prospects also hold that function (ie don't target finance managers with a message for decision-makers working in logistics). It's better to have several different messages than a one-size-fits-all one that ends up fitting no one.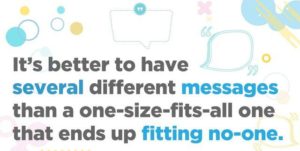 Be sure to use A/B testing with subject lines so you can benchmark open and click-through rates. You'd be surprised how the subject of an email can completely change the reactivity. You can do the same by choosing different days of the week or times of sending (morning versus afternoon); the best time to send a message may vary from one audience to another. Automating the messages based on reactivity (openers and clickers get a different message from those who didn't) should also help to boost your outreach as well.
Don't forget that in order to use email marketing in Europe, you should obtain explicit consent (opt-ins) from prospects prior to going live in order to be compliant with GDPR. Other geographical zones outside of EMEA have data privacy laws that are getting stricter as well (California for example), so you want to be sure that the data you have can legally be used for such purposes. If you are unsure about this, you may want to seek legal counsel just to be on the safe side. And of course, always give your prospects the option to opt-out at any time. Not only will this help ensure you are compliant with data privacy rules and regulations, it will also help you keep a clean list of prospects who are genuinely interested in hearing from you.
Pick up the phone
While many people believe that telemarketing is dead, it can be a highly effective way of engaging with prospects. Warming prospects up by engaging with them on other channels first helps ten-fold since cold-calling can be hit or miss otherwise. Cold-calling really is a numbers game at the end of the day (the more people you call, the more likely it is that someone will respond positively), whereas when you call a prospect that you have already been in touch with on other channels, it makes the introduction phase 100% easier. Telemarketing is also one of the few methods to obtain explicit opt-ins (via oral consent) that is allowed by GDPR, so it should not be overlooked.
In my opinion, you cannot generate qualified sales leads without using the phone at some point during the lead generation process. Pre-sales phoning will help ensure that a prospect is indeed a decision-maker, holds a budget, has a need, and is interested in evaluating your solution. By confirming this information on a call prior to passing the lead onto your sales team, you will ensure that they are following-up the highest quality leads possible. This should help your sales execs close deals faster since they won't be spending time on prospects that are not yet ready to meet.
Paid advertising
Running an advertising campaign (Google AdWords or Sponsored Content on LinkedIn for example) can also be a quick and easy way to increase visibility for your brand and generate top-of-the-funnel leads. You want to be sure that on Google you pick the right keywords (again being too broad is not going to be cost-effective) to be sure that the people clicking on your ads are the most pertinent prospects for your business. On LinkedIn, you can choose the exact target audience (company size, industry sector, geographical location, and job functions) you want your ad to reach, but the most effective campaigns offer value-added content as a way of improving click-through rates. Advertising is a nice addition to one's marketing strategy but should not replace other outreach tactics; it should in no way be the only way you spread the word about your products. When running online ads you should be sure to create several different ones that you run at the same time; this will enable you to benchmark which ones get the most traction so that you can focus on the ones with the best reactivity. This will help maximize your budget which is essential since spending on advertising can become a gigantic black hole if you're not careful.
Be present on and offline
Having an integrated, "always-on" or holistic vision when it comes to lead generation so that you are present across channels both on and offline is the best way to generate leads continually over time. One tactic in and of itself is not going to be as valuable as having a multitude of different ones working at the same time. So using content marketing that is SEO-optimized, having a variety of value-added content that you can leverage through effective email marketing, social selling, and outbound telesales is going to give you the most bang for your buck. The debate between inbound or outbound methods is mute since you really need to do both. Think of it like this: why go to a restaurant and just order an appetizer when you can have an entire meal? It's important to cover all your bases since your target audience may not consume content in the same way, or be reachable on certain channels. By being omnipresent, you are sure to reach who you want, in the way that is most adapted to them.
Final thoughts
Lead generation for software companies is an ever-evolving process. What works today, may not work tomorrow as new competitors enter onto the scene. Taking an agile approach to marketing is essential in order to maximize efficiency and guarantee ROI. Be ready to evaluate the success of your lead generation programs by putting in place obtainable objectives and adequate KPIs. Regularly testing and tweaking your programs should help you define the best practice that works for you.