MediaDev was hired by Qlik EMEA to execute a comprehensive ISV recruitment strategy using digital marketing, social selling and telemarketing.
A Holistic Approach to ISV-OEM Lead Generation
As part of a Global ISV recruitment initiative, MediaDev has been working with Qlik OEM EMEA since 2017 to generate highly qualified leads for their Embedded Analytics offer across Europe. In the early stages, all lead generation campaigns were centered around telemarketing. Both parties soon came to the conclusion there was a need for a more holistic approach to nurture ISVs efficiently. In late 2018, MediaDev developed a comprehensive ISV recruitment strategy including a combination of Social Selling, spot basis telemarketing, email, content marketing, and advertising to convert ISVs into valuable partners over time.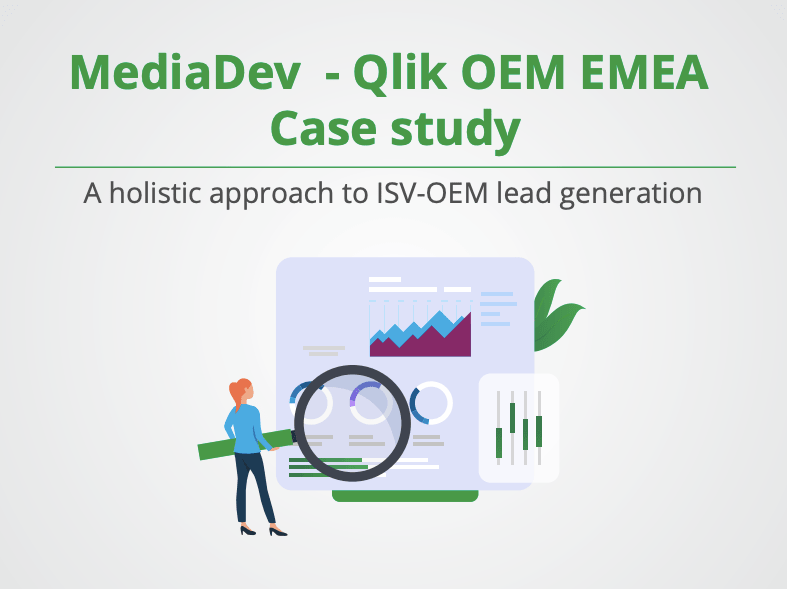 ​"I have a long and profitable relationship with MediaDev. At the beginning at a country level for the Italian market, and more recently at the EMEA level. Among all the IT marketing organizations I've used in the past, MediaDev stands out in their capability to deliver a sophisticated marketing approach that drastically impacts our company top line. I always appreciated their attitude to act as an extended team, committed to sustain the business models and to achieve the marketing goals. MediaDev professionals know the lead generation dynamics in the Information Technology space well and as a result we added a social selling component to our business development strategy. This made the difference driving new prospects and opportunities to our pipeline."
About Qlik
Qlik's vision is a data-literate world, one where everyone can use data to improve decision-making and solve their most challenging problems. Only Qlik offers end-to-end, real-time data integration and analytics solutions that help organizations access and transform all their data into value. Qlik helps companies lead with data to see more deeply into customer behavior, reinvent business processes, discover new revenue streams, and balance risk and reward. Qlik does business in more than 100 countries and serves over 50,000 customers around the world.