Having
inbound customer support
for your software product is a must. Not only does it reassure clients because they can get the answers to their questions immediately, but it is essential in order to escalate glitches so that they can be resolved quickly. The trend today is to provide inbound support through online chat, but is that really enough?
It's true many software vendors provide support through AI powered bots. They're cheaper than hiring a person, and they do a pretty good job when it comes to standard inquiries. Certainly, they do provide important advantages: some people may not feel comfortable speaking to a real person on the phone, while others don't have time to wait for a response over email, making chat-bots a suitable solution.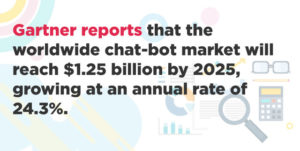 The rise in the use of chat-bots for customer service has taken hold because they are so convenient; these little AI helpers are easily integrated into websites, answering questions and fulfilling requests efficiently. They are capable of working all hours of the day and night, can perform tasks in a matter of minutes, and can overcome flaws with continued usage. Gartner reports that the worldwide chat-bot market will reach $1.25 billion by 2025, growing at an annual rate of 24.3%. But while chat-bots for customer service may be an opportune solution for some, 55% of end-users don't actually like them.
Let's face it. AI is never going to be perfect. And AI can make you want to punch someone in the face when you have repeated yourself 10 times and the bot still doesn't get it. This happens to my 5 year old son when he tries speaking to Alexa. Sometimes she gets what he wants, but most of the time she responds something completely off-topic; in fact, AI has made our inquiries change by the nature of how we must formulate our questions in order for the bot to understand and respond appropriately. But regardless, AI-powered bots will always need a human's input for new scenarios. This may take the form of a customer presenting a problem the bot has never encountered before, or even something as simple as processing requests with incorrect spelling or grammar.
What's amazing about AI is that it is constantly learning. But you cannot just let your bot run wild and expect it to be able to handle all your customer service on its own. It is a must to have someone who can guide and direct it, and step in if something goes wrong. Having a human in the loop will ensure that your bot won't go rogue on you which would result in unhappy customers, lost leads, or worse yet — damaging your company's reputation.
In addition to having someone responsible for monitoring your AI chat-bot, nothing can replace live interaction with a human being (and preferably one that doesn't sound like a robot either) in order to improve the customer experience. What's key when providing support is customer satisfaction, which is why you need a human-run help-desk in addition to your chat-bot, preferably one that is both tech and sales savvy at the same time.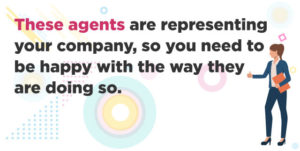 After interviewing dozens of customer service reps working across the globe for large tech accounts, we have found that most are required to stick to a pre-established call script that they cannot deviate from. They are pushed to spend the least amount of time possible on the phone in order to ascertain the issue so as to escalate it to the required service. While from an efficiency stand-point this methodology clearly has its advantages, there are downsides as well. Not only can this way of working increase a customer's level of frustration, it often means that they are bounced from one service to another should they have multiple questions, including ones regarding up-sale or cross-sale.
Between bots and humans that are trained to mimic ones themselves, it's no wonder that improved customer service is a goal for software vendors. Here are three tips to make your inbound customer service desk better:
Tip #1: Let your agents act like people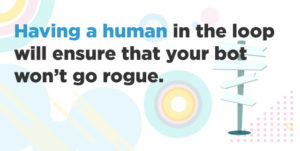 Training your resources to handle customer requests is essential, but do they really have to sound like they are reading a pre-established call guide when they do so? I absolutely hate when I speak to people that sound like robots. Of course you want your agents to be professional, but they should be able to think outside of the box and respond to requests on their feet, without having to read an FAQ guide word for word in the process. Giving your agents a bit more freedom will not only improve your customer experience, it should also give your agents more job satisfaction, which will in-turn help your employee retention rate in the process.
Tip #2: Just because you outsource doesn't mean you should settle for second best
Having a help desk that is both tech and sales savvy makes a lot of sense if you are looking to enhance the customer experience. Outsourcing such a task may sound impossible, but it's not. Set standards high for your outsourcer when you are choosing one so that you find the best one for the job. For this, you should be prepared to interview the inbound call center agents to see how they think on their feet. Do they sound natural? How do they handle difficult customers or unusual requests? You should absolutely run test calls and have your outsourcer supply you with call recordings (when possible) to check for quality; these agents are representing your company, so you need to be happy with the way they are doing so.
Tip #3: Maximize the capabilities of your inbound support to identify leads
You may think that customer support should not dive into the realm of software sales, but by approaching support and lead generation in silos you may be losing out on an important opportunity. Having inbound reps that are tech and sales savvy will help you pin-point pain points faster so that you can respond with an appropriate offer. Reps can be trained to ask some probing questions to qualify additional information beyond the initial inquiry the customer was calling about. This doesn't mean reps need to spend hours at a time speaking to clients, but by checking in to make sure everything with their account is fine, it may give you the occasion to identify areas of improvement. Customers usually appreciate this kind of approach since it makes them feel well taken care of, so it's a win-win method all around.
Final thoughts
Customer service through inbound support needs to be multi-channel and AI chat-bots certainly have their place in the grand scheme of things. But giving your customers the ability to speak to a live human who treats them well (and who is able to do more than just read a script) is also an essential part of the equation.