Choosing an
outsourcer
for outbound IT
telemarketing
can be a daunting task.  Not only do you need to be sure that they are going to deliver a quality service, but
by acting on your behalf, they are representing your company's image
.
It is important to find a reliable company that is going to promote your software brand in the most professional way possible, and who will deliver results that are in-line with your expectations.
Working with any outsourcer has its advantages and its inconveniences.  It's not always possible to manage every marketing campaign in-house, but you don't want to lose all control by outsourcing either.  Knowing the pitfalls to avoid ahead of time can help you make the right choice. Here are some essential things to keep in mind when looking for IT telemarking companies to work with:
Ask for references
Anyone can slap a logo on their website and say they have worked with top brands previously.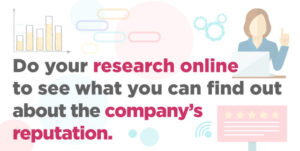 It's another thing to have concrete case studies, explicit client endorsements, or be able to speak with a satisfied customer. Not only should you ask the outsourcer for references, you should also do your research online to see what you can find out about the company's reputation. If you find negative reviews, ask the outsourcer about them. What were the best and worst campaigns they ran, and why were they, or were they not successful?  Do they have best practices that they can share with you that can help improve overall ROI?
It's important to interview a new supplier and get to know them before you take the plunge. Establishing trust with someone new doesn't happen overnight; take your time to fully understand how they have worked with other customers in the past so you can get an idea on how they will work with you.
Check for reactivity
There's nothing worse than working with an IT telemarketing company that kicks off a campaign and then disappears. While generating leads can sometimes be a lengthy process, it doesn't mean that they shouldn't update you on their progress along the way, regardless of the fact that they may not have any leads to share with you yet. How long does it take for the outsourcer to respond to your requests for information? You can test for reactivity during the negotiation phase before you even sign a contract; Do they send you a quote when they say they will, or does it take them longer to get you a proposal than you expected? How quickly do they respond to your emails? If you feel that it takes too long to get answers and you aren't even a customer yet, find someone else.
Run a pilot, then scale
If you want to be able to test your outsourcer's ability to run a successful campaign,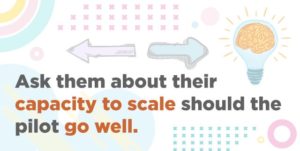 run a pilot with them first before spending big budgets. The best outsourcer will be able to define a program based on your needs while remaining within the budget you have established. From the start you should ask them about their capacity to scale should the pilot go well — how many more resources could they assign? Can they cover additional regions? Would you be required to pay another set-up fee, or would the continuation of an existing campaign be seamless? It's important to get the answers to these questions before running a pilot.
Scalability is an important consideration to take into account when choosing IT telemarketing companies; having to work with multiple suppliers because the one you've chosen cannot scale is far from ideal.
Check for hidden costs
Understanding the business model of your marketing outsourcer is also an important factor to keep in mind when choosing one. Pay-per-lead models are often more advantageous than rent-a-resource ones. Be sure to get a full overview of what's included and what's not. Some IT telemarketing companies will only call down a list of contact names that you provide them — others will supply their own data but will charge you extra for it. It's important that the outsourcer you choose is upfront about the cost and is willing to commit to not going over budget. Make sure you get a line-item quote so that you know where your money is going.
Test their flexibility
Outbound lead generation is not an exact science.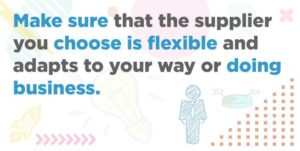 Many things can come up over the course of a campaign, and it is important that your outsourcer readily communicate the challenges they encounter during the process. By taking an agile approach to marketing you should be able to test and tweak your key messages in order to optimize results. Is your outsourcer willing to be flexible and do this, or are they there just to read a pre-defined script? Are they willing to use a reporting format that you give them, or do they only work with one they created themselves? Can they work directly with Salesforce-ready templates? Can they generate leads off of a wishlist of accounts and de-duplicate against a blacklist? Ask the outsourcer to provide you with a workflow so that you can visualize the campaign process from start to finish, and ask them what happens if things don't go according to plan. What measures are they prepared to take if one of their resources is not productive enough? It's important to make sure that the supplier you choose is flexible and adapts to your way or doing business, not the other way around.
Question their training process
How does the outsourcer train its agents? How long is the training process and how do they ensure that an agent fully understands the solution they are promoting before they get on the phone? Will they allow your sales team to provide their agents with a demo? What is the average length of employment of a telemarketer, and has that agent worked on similar campaigns in the past? Providing training to your outsourcer is a good idea no matter what — you are the expert on your product, so it is much more effective for you to present your value proposition directly to the agents who will be making the outbound calls. Keep in mind that if you organize a training session with your outsourcer, it's not a good sign if during the course of your presentation they don't ask any questions whatsoever. If everything is clear at the end of your session, something is probably wrong. The presentation should be interactive — if it's not, it's a good idea for you to check for understanding by asking them questions so that you can see if they retained the key points.
Native language coverage
If you are targeting countries in EMEA and APAC, it is a must that the outbound callers be native speakers of those languages. Sometimes fluent just doesn't cut it and nothing replaces someone who's from the region they are calling from a culture standpoint.
Technical understanding is a must
As an independent software vendor, you cannot afford to have outbound telemarketers who are totally unfamiliar with basic technical concepts. If an agent is going to engage high-level technical decision-makers in one-on-one discussions, they need to be fully versed in the ins and outs of the technology. A novice telemarketer (or one who has never worked to represent a software company previously) is going to have a much harder time than someone who is on-point from a technical perspective. It's a good idea to go with an outsourcer who specializes in IT and works with companies similar to yours. Many agencies work with companies of all kinds, but promoting shoes is nothing like generating leads for software vendors.
Understand your role in the process
You cannot expect a lead generation campaign to be a success if you are not involved in the process. It is very important that your outsourcer get feedback throughout the course of the campaign so that they can align the results they get with your expectations. Timely sales follow-up will ensure that the leads they generate don't go cold, and leads that are no good can be replaced with better ones. You should require a weekly touch-base call so that you keep in close contact with your outsourcer. This will help them better serve you and will ensure that the lines of communication stay open.
Go with your gut
It may sound silly, but gut feelings about the people you work with are important. If something feels off, (even if you can't put your finger on why), choose someone else. In order for the relationship to work well with an outsourcer, communication needs to flow easily between you and them. If you feel like the company you are evaluating isn't listening to your needs, that they aren't responding fast enough, or that it's hard to get them to understand what you're looking for, don't ignore those red flags — find someone else.